The first snow of the season means it's a great day for chili! Start it early, let it simmer in the slow cooker, enjoy the aroma, and everyone can eat when they are hungry.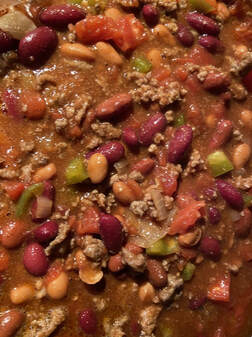 This is a basic recipe but today I threw in some great northern beans I had on had to stretch it a bit for leftovers for tomorrow. Add what you love, what you have on hand, leave out what you don't like, etc. Top with shredded cheese and serve with warm bread. Yum!
Chili
1 pound of lean ground beef
1 onion, diced
1 green pepper, diced
1  3 pound can of kidney beans, drained
2  1 pound cans of diced tomatoes, undrained
2  8 ounce cans of tomato sauce
2 cloves of garlic (or more) minced 
1 tablespoon sugar
chili powder 1-2 tablespoons 
Brown the ground beef and drain.
Put in large slow cooker with the rest of the ingredients, mixing well. Cook 4-6 hours on low or 1 1/2 on stove top.