New Year's eve is approaching quickly and you'll want to have some snacks on hand to send 2020 out and bring 2021 in with hope & best wishes.
Everyone has their favorite snacks and very often we tend to serve them over and over again. Meatballs, chips &  dip, and pigs in a blanket are yummy, but so last year!  So if you're tired of the same old things or just want a new appetizer to try, one of these easy recipes may become a new favorite. 
---
Salami Rolls
1 pound of thinly sliced salami
1 block of cream cheese, softened
blue cheese 4 oz or more – depends on how much you like it!
Mix cream cheese and blue cheese, adding a bit of milk to thin if needed.
Spread thinly on each slice of salami and roll, securing with a toothpick or laying the flap side down on the serving plate. Chill and serve. 
---
Crab Dip
1 8oz block of sour cream, softened
1/2 cup sour cream
3 tablespoons mayonnaise
1 tablespoon lemon juice
1/2 teaspoon garlic powder
2 teaspoons Worcestershire sauce 
1 teaspoon dry mustard
1 cup shredded cheddar cheese
4 dashes Tabasco
1 tablespoon Old Bay seasoning
1 pound of crab meat
Heat oven to 350 degrees. Spray a 1 qt baking dish (I use a glass pie plate) with Pam .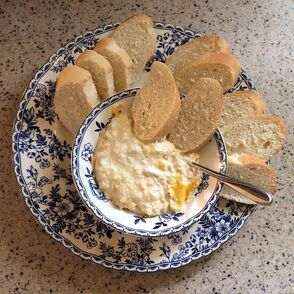 Mix all the ingredients except the crab meat & cheese, then fold in the crab and 1/4 cup of the cheese.  Spoon into baking dish. 
Top with a sprinkle of Old Bay and the rest of the cheese. 
Bake for 20–30 minutes. Serve with sliced baguette or crackers. 
---
Cream Cheese & Pepper Jelly
Place a block of cream cheese on a plate and spoon 4 oz of pepper jelly over the top, Use a small knife for spreading. Serve with Club crackers.