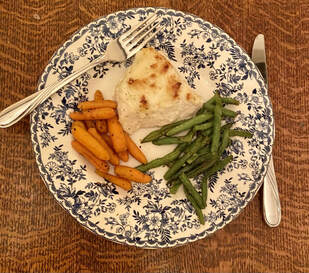 Tonight we are having one of the easiest, moistest, and tastiest chicken dinners ever. It takes minutes to assemble and since both the chicken and veggies cook together in the oven, it is as simple as you can get. Clean up is super easy as well.

I start the vegetables first since the carrots take longer to cook. I put them on a foil lined sheet pan, drizzle with olive oil and seasoning, and put them in the oven at 400 degrees for 15 minutes. I use Kinder's Butter Steak seasoning but you can use whatever seasonings you like. Salt, pepper, and Italian seasoning are wonderful, too. I often use whatever seasoning mix I have on hand, such as steak seasoning, on vegetables and even chicken.
Next I cut the green beans, put them in a bowl and drizzle them with olive oil and season as well. When the 15 minutes at 400 degrees is up, I remove the pan from the oven, add the green beans, return the pan to the oven and reduce the heat to 350.
Since the beans only take moments to prep I have time to make the chicken.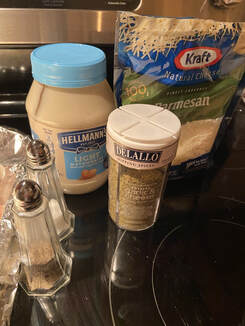 I used 4 boneless, skinless chicken breasts, cut in half and placed them on a foil lined sheet pan sprayed with cooking spray.
​
In a bowl I mix:
3/4 cup of light mayo
3/4 shredded cheese You can use parmesan or cheddar. I used parmesan
1/2 teaspoon of salt
1/2 teaspoon pepper
1 teaspoon of garlic or garlic seasoning (tonight I used DeLallo bread dip seasoning)
After mixing thoroughly, put a spoonful of mix on each piece of chicken and coat well.
Bake at 350 for 40 minutes, then broil for 3-5 minutes to brown the top.