Ranch and Cheddar Stuffed Chicken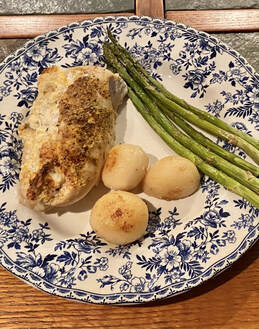 Ingredients:
4 boneless, skinless chicken breasts.
1 8 oz block cream cheese, softened
1/2 tablespoon Worcestershire sauce
1/2 packet Hidden Valley Ranch dressing mix
1/2 cup shredded cheddar cheese
paprika
Montreal Chicken Seasoning
---
Slice chicken breast along the side, cutting 1/2 to 3/4 of the way through the chicken to make a pocket.

Mix rest of the ingredients thoroughly and spoon into each chicken breast, closing the pocket without squeezing cream cheese mix out. 

Sprinkle with paprika and Montreal Chicken Seasoning.
Bake at 400 degrees 30-40 until cooked through. 
You can pour a little melted butter over the chicken pieces after ten or 15 minutes in the oven to help it brown if you like.