Here is another chicken recipe that we really enjoy. It is flavorful, easy, and cooks in the crock pot, so you can set it up and have dinner ready when you are!

You can serve it with pasta, rice, steamed vegetables, or, like us, with spaghetti squash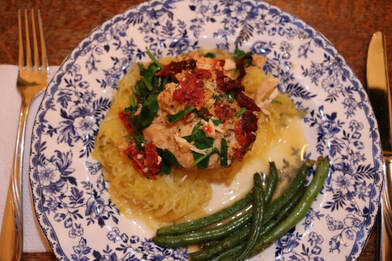 Tuscan Chicken
3 boneless, skinless chicken breasts, cut in half, making six servings
1 tablespoon olive oil
6 cloves of garlic
1 cup of heavy cream or 3/4 cup milk & 1/4 butter
1/3 cup chicken broth
1 cup shredded parmesan cheese
1 1/2 tablespoons Italian seasoning
3/4 cup chopped or julienned sun-dried tomatoes
2 cups of spinach, chopped into strips or large bite sized pieces
Place chicken in the crock pot and season with Italian seasoning, then top with sun-dried tomatoes. 

In a small skillet or saucepan cook the garlic in the olive oil. When softened add the cream or milk & butter, and the chicken broth. Simmer on low for five minutes then add the parmesan cheese and whisk until blended.

Pour the sauce over the chicken, covering pieces thoroughly. Cook on low 6 hours or high 4 hours. 

When cooking time is done add the spinach, pushing down into the liquid with a spoon or remove the chicken and add the spinach, stirring into the sauce, then spoon the spinach and sun-dried tomato sauce over the chicken. 

Enjoy!