I couldn't wait any longer to put up some Valentine decorations. Usually I am a winter hold-out until we get snow but this year I don't really care. Not sure why, but I am ready to move on from winter and on to better things. Besides, it hasn't really been all that cold and so I have basically given up on getting any snow. 
I have a small house so it is easily overwhelmed with seasonal decor. The coffee station is the best way for me to decorate while keeping it in a small space. 

I have recently gotten into Rae Dunn a bit so have bought some mugs for Valentine's Day. We also found 2 canisters, one medium sized off white with XOXO in gold and another (baby canister) that says Candy Hearts in red. Both of these were from TJMaxx and under $10.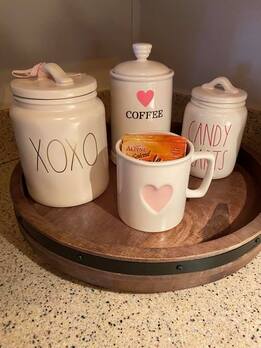 The Candy Hearts jar holds tea bags and the XOXO holds another flavor coffee pods.

​My regular coffee pod canister remains the same and I added a pink heart sticker (clever, huh?) to make it Valentine-y.  I did the same with a Rae Dunn sugar canister.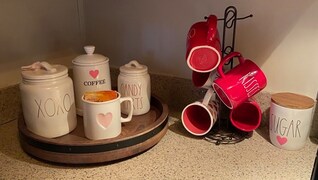 A very cute off white mug with pink heart holds instant apple cider packets.

Over my sink I have a Target dollar spot red and pink heart garland.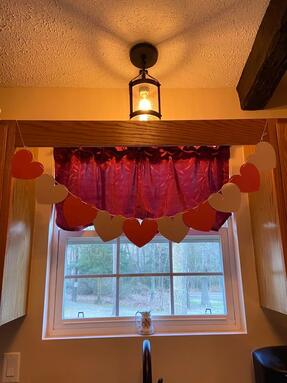 Another counter holds two red baby canisters with hearts. One of those is full of hot cocoa mix.

I have a tray in off white an pink that matches the cider mug near those. It doesn't really go well with them so will probably move that soon.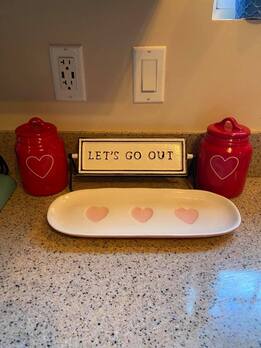 The only other Valentine decor out so far is a Rae Dunn Sweet heart sign on the entertainment center in the living room. That's pretty much it. I decided not to get my box of other things out of the storage area. 

I hope to have a Galentine's evening on the 13th with my daughters and sister. I am having a hysterectomy on February 8th so hopefully will be feeling up to it by then.

I'm not sure if my beloved has any plans for us for Valentine's Day or not but being his wife is enough for me!